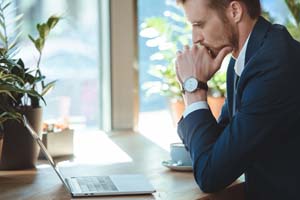 Hello, my name is Brian L. Jackson, I'm a Tulsa father's rights attorney. And today, I want to talk to you guys about guardianships. And specifically, what you can do to protect yourself from someone else trying to seek guardianship of your child. Now, typically when this can happen is a couple of scenarios. If you are having difficulties raising your child, either because of some kind of personal issues or because of financial hardship? That can result in one of your relatives or your parents deciding that you don't need to be taking care of your kid anymore, and they may initiate guardianship proceedings.
Another scenario and I actually have worked cases like this where this can happen is. If you are an unmarried father, and your child's mother has custody and the child's mother dies? Then what sometimes happens is that the mother's family will initiate guardianship proceedings, rather than permitting the child to go to dad. One example of this situation is a case where I worked a couple of years ago, where a client of mine had had a child out of wedlock.
And the child lives with the mother, and the mother was giving him limited contact with the child. Basically, her motivation had to do with the fact that he had broken up with her, and had then moved on and gotten married to somebody else, and she didn't like that so much. Well, long and short of it was, in this case, she became ill and died. And rather than notifying him that she was ill, or notifying him that she had died? Her family initiated guardianship proceedings, and his first note of the child's mother's passing is when he gets served with guardianship papers.
This kind of situation can happen, and it does directly implicate your rights. So if you find yourself in that situation, you want to get a lawyer involved early who knows the guardianship process, and knows how to fight for your rights as a father. You want to be the one raising your child, not some relative. Not the grandparents, not an aunt. You. And you have constitutional rights in this regard. And if you are a fit parent, you deserve a proper defense. And if you do find yourself in this situation, you should give me a call. I'd be happy to help you out, and the sooner you get an attorney involved, the better it is for you so that you don't find your rights compromised.
My name is Brian L. Jackson, and we've been talking about guardianships.